JAFA is a non-profit corporation which represents the interests of air freight forwarding industry in Japan. It was founded on 1 Apr. 1991 through a merger of, there-to-fore, three independent associations: namely, the International Air Freight Forwarders Association, the Domestic Aircargo Consolidators Association and the International Air Express Association. On 1 June, 1991, it was legally authorized by Minister for Transport and Minister for Finance as a corporate judicial person.
 
Japanese air cargo transport has undergone a remarkable growth irrespective of occasional disruptions due to variety of factors like the war, oil crisis, economic depression, etc. The volume of her international air cargo transport has increased thirty fold for the past quarter century, while more than forty fold for domestic air cargo in the same period. The 2002 total volume of air cargo transport, 3.7 million tons, was the second highest since the reinauguration of civil aviation in 1951. This trend of steady development of air freight transport would continue for the foreseeable future because of the integration of world market, the improvement of physical distribution stimulated by new information technology, the introduction of more efficient aircraft, etc.
 
 
As the unique organization to represent the interests of air freight forwarding industry in Japan, its members are composed of air cargo forwarders, consolidators, express carriers and/or air cargo agents, either they are domestic or foreign companies.
 
Full members 124, Associate members 20, Supporting members 13
(as of 1 Jun. 2018)
 

 (1)Full membership:
Air Freight Forwarder/Consolidator
Air express/courier company
IATA cargo sales agent
 (2)Associated membership:
Those companies whose business are closely related to full members.
 (3)Supporting members:
Those who support JAFA activities
 
JAFA seeks for the sound development of air freight forwarding business and air cargo sales agents by protecting their interests, conducting research and study as well as by providing consultation concerning their activities, so that shippers and consumers can enjoy the benefit of smooth provision of air transport services.
 

 (1)Research/study concerning sound development of air freight forwarding business
 (2)Implementation of security measures related to air freight forwarding activities
 (3)Training, education, seminars and conferences concerning air freight forwarding
 (4)Research and study concerning customs relating to air freight
 (5)Public relations activities concerning air freight forwarding business
 (6)Submission of requests, opinions, comments etc. to the relevant authorities
 

(1)Federation Internationale des Associations de Transitraires et Assimiles (FIATA)
FIATA is an international organization by national forwarders associations and individual forwarding companies
(2)Federation of Asia-Pacific Air-cargo Association (FAPAA)
FAPAA is an associated organization of national organizations of air freight forwarders in the Asia-Pacific region.

JAFA conducts various examinations, training courses and seminars not only for its member companies but also for those who have interest in forwarding industry. The following are examples of these courses. for more detail, you are advised to contact JAFA Secretariat.
(1) IATA Diploma
Officially named as the IATA International Cargo Agent Training Program. It was launched in 1977. It is an international certificate which is conducted in more than 80 countries world-wide. In order to obtain IATA Diploma, it is required to pass qualification examinations. JAFA manages and supervises Diploma exams in Japan. JAFA is also an official IATA training center for Diploma.

IATA Diploma course is composed of the following 3 courses;
 ① Cargo Introductory course
 ② Dangerous goods regulations initial
 ③ Dangerous goods regulations recurrent

Qualification exams for ① Cargo Introductory Course and those for ② Dangerous Goods Initial and ③ Dangerous Goods Recurrent are carried out four times a year (Usually in March, June, September and December.).

Being an official training center of IATA, JAFA conducts preparatory training courses on behalf of applicants for those Diploma examinations.

・ Domestic Dangerous Goods Transport Training Course
For those who work for domestic air freight forwarding services, JAFA provides dangerous goods transport training courses. It is composed of two courses: namely the introductory course and the supervisory course. The introductory course is held once a year in big 8 cities, while supervisory course once in Tokyo.

・ IATA Dangerous Goods Regulation Seminar
In cooperation with Board of International Airfreight Carriers(BIAC), JAFA provides shippers with seminars on IATA Dangerous Goods regulations.

Secretariat
Asteer Kayabacho Bldg. 4F
6-1 Shinkawa 1-chome,
Chuo-ku, Tokyo 104-0033, Japan
Tel: +81-3-6222-7571
Fax: +81-3-6222-7577
Web: http://www.jafa.or.jp


BRIEF HISTORY OF JAFA
(1) Pre-JAFA eras
1961 Aug.
Setting-up of the Association of IATA Cargo Agents (AICA)
1963 Jan.
Setting-up of the International Air Cargo Forwarders Association (IACA)
1963 Jul.
Setting-up of the Domestic Aircargo Consolidators Association (DACA)
1968 Feb.
AICA and DACA merger to become the International Air Cargo Forwarders Association (IAFA)

---

(2) FIATA Participation
1971 Apr.
IAFA became a full member of FIATA
1979 Oct.
IAFA carried out the first IATA/FIATA Diploma Qualification Exams in Japan

---

(3) Air Express Carriers
1986 Aug.
Setting-up of the Japan International Air Express Association

---

(4) JAFA and its Growth
1991 Jun.
IAFA,DACA & IAA merged to become the Japan Aircargo Forwarders Association (JAFA)
1995 Nov.
JAFA is authorized by IATA as its Official Training Center (Introductory, Rating & Dangerous Goods Courses)
1998 Apr.
Issuance of JAFA/Neutral Air Waybill

---

(5) Recent Activities
2000 Feb.
Commencement of the Campaign agaist the Smuggling of Socially Evil Goods (Narcotics, Firearms, etc.)
2001 Mar.
Revision of 'Model Contract of Carriage' in conformity with the Montreal Protocol No.4 (MP4)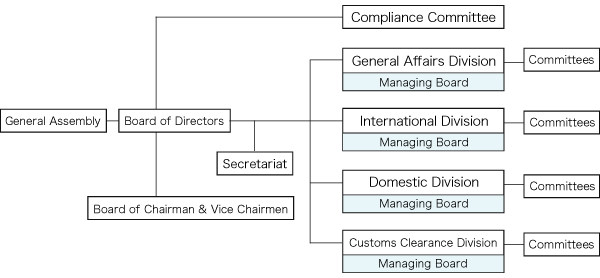 Activities of The Committees
Compliance Committee
 Takes necessary measures including compliance seminars to keep strict compliance
General Affairs Division
 Examines issues and takes necessary measures concerning key issues of the Association, public relations, security measures, airport matters, etc.

① Policy Committee
② General Affairs Committee
③ Public Information Committee
④ Security Committee
⑤ Airport Committee
⑥ JAFA-BIAC Joint Research Committee

International Division
 Examines issues and takes necessary measures concerning international air cargo, interchange with international organizations, relevant education and training, etc.

① International Affairs Committee
② International Liaison Committee
③ International Training & Education Committee

Domestic Division
 Examines issues and takes necessary measures concerning domestic air cargo, relevant education and training, etc.

Domestic Affairs / Training & Education Committee

International Air Express Division
 Examines issues and takes necessary measures concerning international air express, relevant education and training, etc.

① International Air Express Committee
② International Training & Education Committee

Customs Clearance Division
 Examines issues and takes necessary measures concerning customs clearance, AIR-NACCS, etc.

① Customs Affairs Committee
② EDI Committee

| | | |
| --- | --- | --- |
| Position | Name | Freight Forwarder |
| Chairman | Yutaka Ito | Executive Vice President, Nippon Express Co.,Ltd. |
| Vice Chairman | Hiromitsu Kuramoto | Chairman and Representative Director, Yusen Logistics Co.,Ltd. |
| Vice Chairman | Nobutoshi Torii | President and CEO, Kintetsu World Express, Inc. |
| Vice Chairman | Atsushi Togawa | President, Yamato Global Express Co.,Ltd. |
| Vice Chairman | Tetsuo Fukuda | President and CEO, Overseas Courier Service Co.,Ltd. |
| Vice Chairman | Seisaku Okafuji | President & CEO, Hankyu Hanshin Express Co.,Ltd. |
| Senior Executive Director | Tatsuya Teranishi | JAFA |
| Director | Atsushi Takizawa | Director and Senior Adviser, International Express Co.,Ltd. |
| Director | Mineo Yano | President & CEO, Japan Post Sankyu Global Logistics |
| Director | Tetsuya Minato | President, MOL Logistics (Japan) Co.,Ltd. |
| Director | Masaki Fujimatsu | Managing Director, Seino Super Express Co.,Ltd. |
| Director | Tomohiro Kon | General Manager,Air Freight, DHL Global Forwarding Japan K.K. |
| Director | Shinji Kitamura | Managing Executive Officer, NNR Global Logistics |
| Director | Yoshiyuki Matsumoto | Chairman, Nippon Courier Service Co.,Ltd. |
| Director | Hideto Sakurai | Director & Managing Executive Officer, Nissin Corporation |
| Director | Shoichi Sakamoto | Director, Plus Cargo Service Co.,Ltd. |
| Director | Kazuhisa Minami | Executive Director, Pegasus Global Express Co.,Ltd. |
| Director | Tomoko Kojima | President, YDH Japan INC. |
| Auditor | Yukio Kunimura | President, Keihin Airfreight Co.,Ltd. |
| Auditor | Hiroshi Tsutsumi | President, Kokusai Kuyu K.K. |

◎
INTERNATIONAL DIV. (87 members)
・
AERO ENTERPRISE INC.
5F, 2-3-8, Shiohama Koto-ku, Tokyo 135-0043
Tel : 03-6666-0029
Fax : 03-6666-0209
・
AGILITY LTD.
NOF Kanda Iwamotocho Bldg. 4th Floor, 3-8-16 Iwamoto-cho, 1-chome Chiyoda-Ku, Tokyo 101-0032
Tel : 03-5821-4611
Fax : 03-5821-4610
・
AIRMODAL SERVICE, INC.
K-ACT 1F, 4-16 Koyochohigashi, Higashinada-ku, Kobe 658-0031
・
ALPHA GLOBAL LOGISTICS, INC.
Eihashinkawa Bldg 6th Floor, 1-5-17 Shinkawa, Chuo-ku, Tokyo 104-0033
Tel : 03-3553-0651
Fax : 03-3553-0650
・
ALISPED JAPAN LTD.
Hirakawacho-daiichiseimei Bldg 6th Floor, 1-2-10 Hirakawacho, Chiyoda-ku, Tokyo 102-0093
Tel : 03-3511-2831
Fax : 03-3511-2835
・
ALPS LOGISTICS CO.,LTD.
1756 Nippacho Kohoku-ku, Yokohama-shi, Kanagawa 223-0057
Tel : 045-531-4133
Fax : 045-531-3011
・
ANA CARGO INC.
1-5-2 Shinbashi Minato-ku, Tokyo 105-7140
Tel : 03-6735-1900
Fax : 03-6735-2727
・
APEX INTERNATIONAL INC.
7F, 2-4-6 Shibadaimon, Minato-ku, Tokyo 105-0012
Tel : 03-5408-3588
Fax : 03-5408-3589
・
BEST SHIPPING, INC.
BS Bldg., 1-14-6 Shibaura, Minato-ku, Tokyo 105-0023
Tel : 03-5439-3708
Fax : 03-5439-3709
・
BOLLORE LOGISTICS JAPAN K.K.
Higashi-Yaesu City Bldg.5F, 3-14-2, Hatchobori Chuo-ku, Tokyo 104-0032
Tel : 03-5541-7339
Fax : 03-5541-7384
・
CEVA LOGISTICS JAPAN, INC.
3F, 3-8-5 Tatsumi Koto-ku, Tokyo 135-0053
Tel : 03-5534-3220
Fax : 03-5534-3221
・
CJ KOREA EXPRESS JAPAN CORPORATION
CJ Bldg., 9 Floor, 2-7-4 Nishi-shimbashi, Minato-ku, Tokyo 105-0003
Tel : 03-3500-5841
Fax : 03-3500-5120
・
DAMCO JAPAN K.K.
5F, Ichiboshi-Shiba Bldg, 2-2-14 Shiba Minato-ku, Tokyo 105-0014
Tel : 03-6891-7013
Fax : 03-6368-6996
・
DHL GLOBAL FORWARDING JAPAN K. K.
River-Side Sumida 12F, 1-19-9 tsutsumidohri Sumida-ku, Tokyo 131-0034
Tel : 03-5247-5551
Fax : 03-5247-5565
・
DSV Air & Sea CO., LTD
Odenma-chitose Bldg., 14-17 Nihombashi-Odenmacho, Chuo-ku, Tokyo 103-0011
Tel : 03-4510-3485
Fax : 03-5614-4511
・
EXPEDITORS (JAPAN) LTD.
Cross Place Hamamatsucho 5F, 1-7-6 shibakoen Minato-ku, Tokyo 108-0011
Tel : 03-5776-1151
Fax : 03-5776-1157
・
FUJI FILM LOGISTICS CO.,LTD.
3-7-17 Shin-Yokohama,Kohoku-ku,Yokohama-shi, Kanagawa 222-0033
Tel : 045-470-5908
Fax : 045-470-5943
・
FUJITRANS CORPORATION
1-7-41 Irifune Minato-ku, Nagoya-shi Aichi 455-0032
Tel : 052-653-3111
Fax : 052-652-7110
・
FUKUYAMA TRANSPORTING CO.,LTD.
4-20-1 Higashi-fukatsucho Fukuyama-shi, Hiroshima 721-0974
Tel : 0849-24-2000
Fax : 0849-31-4865
・
FUYO AIR CARGO CO.,LTD.
Yasuda-shibaura No2 Bldg., 5 Floor, 3-2-12 Kaigan Minato-ku, Tokyo 108-0022
Tel : 03-6435-1131
Fax : 03-5419-7581
・
GEODIS JAPAN CO.,LTD.
5-1-11, Osaki, Shinagawa-ku, Tokyo 141-0032
Tel : 03-6431-8045
Fax : 03-5719-3537
・
HANKYU HANSHIN EXPRESS CO.,LTD.
2-5-25 Umeda Kita-ku Osaka-shi, Osaka 530-0001
Tel : 06-4795-5712
Fax : 06-4795-5724
・
HONDA LOGISTICS INC.
Ichibancho Square 4,5,6 Floor, 6 Ichibancho Chiyoda-ku, Tokyo 102-0082
Tel : 03-5357-1041
Fax : 03-5357-1061
・
H&FRIENDS GLT(JAPAN) CO.,LTD.
9F, 3-7-9, Shibaura Minato-ku Tokyo 108-0023
Tel : 03-6865-1231
Fax : 03-6865-1235
・
ITOCHU LOGISTICS CORP.
13F, Shiodome-city center, 1-5-2 Higashi-shimbashi, Minato-ku, Tokyo 105-7113
Tel : 03-6254-6043
Fax : 03-6254-6543
・
INTERNATIONAL EXPRESS CO.,LTD.
2-1-17 Kaigan Minato-ku, Tokyo 105-0022
Tel : 03-3452-5531
Fax : 03-3457-7613
・
ISEWAN TERMINAL SERVICE CO.,LTD.
1-7-40 Irifune Minato-ku, Nagoya, Aichi 455-0032
Tel : 052-661-5181
Fax : 052-661-6121
・
JAPAN POST SANKYU GLOBAL LOGISTICS CO.,LTD.
Hokusui 2nd Bldg. 5-11-11 Kachidoki Chuo-ku, Tokyo 104-0054
Tel : 03-4334-3411
Fax : 03-6220-3977
・
JAPAN TRANSCITY CORPORATION
6-6 Chitose-cho Yokkaichi-shi, Mie 510-8651
Tel : 059-353-5211
Fax : 059-353-4370
・
JAPAN VAN LINES CO.,LTD.
1-14-24 Kaigan Minato-ku, Tokyo 105-0022
Tel : 03-3434-9411
Fax : 03-3434-9410
・
JAS FORWARDING (JAPAN) CO.,LTD.
5F, 6-17-15 Shimbashi Minato-ku, Tokyo 105-0004
Tel : 03-5405-2780
Fax : 03-5405-2789
・
"K"LINE LOGISTICS, LTD.
1-8-16 Nihombashi honcho, Chuo-ku, Tokyo 103-0023
Tel : 03-5255-5070
Fax : 03-5255-5071
・
KANEMATSU LOGISTICS & INSURANCE LTD.
5F, 1-3-8 Nihombashi-Ningyocho, Chuo-ku, Tokyo 103-0013
Tel : 03-4214-3940
Fax : 03-4214-3949
・
KAMIGUMI AIR SERVICE CO.,LTD.
3-7-11 Shibaura Minato-ku, Tokyo 108-0023
Tel : 03-3452-6417
Fax : 03-3452-6421
・
KEIHIN AIRFREIGHT CO.,LTD.
3-4-20 Kaigan Minato-ku, Tokyo 108-0022
Tel : 03-3456-7847
Fax : 03-3456-7859
・
KINTETSU WORLD EXPRESS, INC.
24F, 2-15-1 Konan Minato-ku, Tokyo 108-6024
Tel : 03-6863-6440
Fax : 03-5462-8501
・
KOKUSAI AEROMARINE CO.,LTD.
2-5-2 Nishi-Shimbashi Minato-ku, Tokyo 105-0003
Tel : 03-3501-3264
Fax : 03-3501-8417
・
KONAPON CORPORATION
Ueno-fujita-estate No. 1, 1-4-8 Ueno Taito-ku, Tokyo 110-0016
Tel : 03-5812-2350
Fax : 03-5812-2351
・
KONOIKE TRANSPORTATION CO.,LTD.
4-3-9 Fushimicho Chuo-ku, Osaka-shi Osaka 541-0044
Tel : 06-6271-4600
Fax : 06-6271-4568
・
KORCHINA LOGISTICS JAPAN CO.,LTD.
4F. 1-29-9, Nihombashi-Kakigaracho, Chuo-ku, Tokyo 103-0014
Tel : 03-5644-7555
Fax : 03-5644-5066
・
KSA INTERNATIONAL, INC.
13 Mibu Takahi-cho, Nakagyo-ku, Kyoto 604-8824
Tel : 075-802-1371
Fax : 075-811-6906
・
KUEHNE & NAGEL LTD.
East 21 Tower 19F, 6-3-2 Toyo Kohto-ku, Tokyo 135-0016
Tel : 03-5632-5360
Fax : 03-5632-5366
・
MARUBENI LOGISTICS CORPORATION
Takebashi Yasuda Bldg., 3-13 Kanda-Nishikicho Chiyoda-ku, Tokyo 101-0054
Tel : 03-3219-1511
Fax : 03-3219-1526
・
MARUZEN SHOWA UNYU CO.,LTD.
Shiba 1-chome Bldg., 4F, 1-12-7 Shiba Minato-ku, Tokyo 105-0014
Tel : 03-6722-4507
Fax : 03-6722-4513
・
MARUWN CORPORATION
Pentel Bldg., 4F, 7-2 Nihombashi-koamicho, Chuo-ku, Tokyo 103-0016
Tel : 03-6897-3420
Fax : 03-6861-5117
・
MAZDA LOGISTICS CO.,LTD.
3-19 Kusuna-cho, Minami-ku, Hiroshima 734-0032
Tel : 082-251-3251
Fax : 082-255-1623
・
MEIKO TRANS CO.,LTD.
2-4-6 Irifune Minato-ku, Nagoya-shi, Aichi 455-8650
Tel : 052-661-8135
Fax : 052-652-1680
・
MEITETSU WORLD TRAVEL, INC. (MEITETSU WORLD TRANSPORT)
2-14-19 Meieki-Minami, Nakamura-ku Nagoya-shi, Aichi 450-8577
Tel : 052-582-2110
Fax : 052-562-0933
・
MITSUBISHI ELECTRIC LOGISTICS CORPORATION
Yurakucho Denki Bldg., North 13F, 1-7-1 Yurakucho Chiyoda-ku, Tokyo 100-0006
Tel : 03-6266-6880
Fax : 03-6266-6887
・
MITSUBISHI LOGISTICS CORPORATION
1-19-1 Nihombashi, Chuo-ku, Tokyo 103-8630
Tel : 03-3278-6611
Fax : 03-3278-6694
・
MITSUI-SOKO EXPRESS CO.,LTD.
20-1, Nishi-shimbashi 3-chome, Minato-ku, Tokyo, 105-0003
Tel : 03-5776-5100
Fax : 03-5776-5372
・
MITSUI-SOKO SUPPLY CHAIN SOLUTIONS, INC.
3-20-1 Nishi-shimbashi Minato-ku, Tokyo 105-0003
Tel : 03-6858-7450
Fax : 03-6880-9911
・
MOL LOGISTICS (JAPAN) CO.,LTD.
Shin-Ochanomizu Bldg.
4-3, Kanda Surugadai Chiyoda-ku, Tokyo 101-8330
Tel : 03-6731-7500
Fax : 03-6867-8900
・
NAIGAI NITTO CO.,LTD.
1-38-8 Higashi-Shinagawa Shinagawa-ku, Tokyo 140-0002
Tel : 03-5460-9719
Fax : 03-5460-9741
・
NAX JAPAN CO.,LTD.
Ichikawa Bldg, 4F 5-13-3 Ginza Chuo-ku, TOKYO 104-0061
Tel : 03-3541-3480
Fax : 03-3541-3481
・
NANKAI EXPRESS CO.,LTD.
1-10-4 Nanba-Naka Naniwa-ku, Osaka 556-0011
Tel : 06-6632-6531
Fax : 06-6632-6535
・
NET INTERNATIONAL CORP.
5F, 2-7-1 Nishi-shinjuku Shinjuku-ku, Tokyo 163-0705
Tel : 03-5908-2571
Fax : 03-5908-1631
・
NIKKON HOLDINGS CO.,LTD.
6-17 Akashi-cho Chuo-ku, TOKYO 104-0044
Tel : 03-3541-5330
Fax : 03-3546-3659
・
NIPPON EXPRESS CO.,LTD.
1-9-3 Higashi-Shimbashi Minato-ku, Tokyo 105-8322
Tel : 03-6251-1111
Fax : 03-6251-6731
・
NNR GLOBAL LOGISTICS
Nishitetsu Nihombashi Bldg, 3-2-5 Nihombashi, Chuo-ku, Tokyo 103-0027
Tel : 03-4332-5050
Fax : 03-4332-5061
・
NISSIN CORPORATION
Eishin Bldg. 5 Sanbancho Chiyoda-ku, Tokyo 102-8350
Tel : 03-3238-6601
Fax : 03-3263-6618
・
NITTSU NEC LOGISTICS,LTD.
STM Bldg 4F, 1-403 Kosugi-cho Nakahara-ku, Kawasaki-shi, Kanagawa 211-0063
Tel : 044-733-0536
Fax : 044-733-0438
・
NITTSU PANASONIC LOGISTICS CO.,LTD.
3-2-6 Higashi-befu, Setts-shi Osaka 566-0042
Tel : 06-6349-5019
Fax : 06-6349-5244
・
NOHHI LOGISTICS CO.,LTD.
2-20, Hashimoto-cho, Gifu-shi, Gifu 500-8856
Tel : 058-251-1111
Fax : 058-253-9311
・
NRS CORPORATION
Kowa-Hitotsubashi Bldg. 8F,
3-7-1 Kanda-Nishikicho, Chiyoda-ku, Tokyo 101-0054
Tel : 03-5281-8155
Fax : 03-5281-1857
・
OKINAWA YAMATO TRANSPORT CO.,LTD.
4-21-3, Nishizakicho, Itoman-shi, Okinawa 901-0305
Tel : 098-840-3580
Fax : 098-851-3011
・
PANALPINA WORLD TRANSPORT(JAPAN) LTD.
LOOP-X 15F. 3-9-15 Kaigan Minato-ku Tokyo 108-0022
Tel : 03-3451-7957
Tel : 03-3451-7967
・
SGH GLOBAL JAPAN CO.,LTD.
1-1-1 Katsushima Shinagawa-ku, Tokyo 140-0012
Tel : 03-3768-8501
Fax : 03-3767-1845
・
SANRITSU CORPORATION
1-1 Ebisucho, Kanagawa-ku, Yokohama-shi, Kanagawa 221-0024
Tel : 045-620-8456
Fax : 045-620-8457
・
SBS GLOBAL NETWORK CO.,LTD.
10F, 4-1-3 Ohira Sumida-ku, Tokyo 130-0012
Tel : 03-5619-5630
Fax : 03-5619-5631
・
SCHENKER-SEINO CO.,LTD.
Tennozu Central Tower 16F 2-2-24 Higashi-shinagawa Shinagawa-ku, Tokyo 140-0002
Tel : 03-5769-7320
Fax : 03-5769-7330
・
SEINO SUPER EXPRESS CO.,LTD.
3F, 3-10-23, Tatsumi, Koto-ku, Tokyo 135-0053
Tel : 03-6384-7800
Fax : 03-6384-7859
・
TAIUN AIR FREIGHT SERVICE
7F, 4-8-2 Hatchobori Chuo-Ku, Tokyo 104-0032
Tel : 03-3552-2612
Fax : 03-3552-2614
・
TATSUMI SHOKAI CO.,LTD.
4-1-1 Chikuko Minato-ku, Osaka 552-0021
Tel : 06-6576-1821
Fax : 06-6576-1846
・
THE SHIBUSAWA WAREHOUSE CO.,LTD.
2-37-28 Eitai Koto-ku, Tokyo 135-8513
Tel : 03-5646-7220
Fax : 03-3820-9136
・
THE SUMITOMO WAREHOUSE CO.,LTD.
2-11-1 Shibakoen Minato-ku, Tokyo 105-0011
Tel : 03-6430-2668
Fax : 03-6430-2706
・
TOKYO AIR CARGO CO.,LTD.
1-2-13 Higashi-Shimbashi Minato-ku, Tokyo 105-0021
Tel : 03-3572-8094
Fax : 03-3573-1575
・
TOSHIBA LOGISTICS CORPORATION
4F, Cube Kawasaki Bldg, 1-14 Nisshin-cho, Kawasaki-ku Kawasaki-shi, Kanagawa 210-0024
Tel : 044-223-2001
Fax : 044-223-2102
・
TOYO TRANS INCORPORATION.
18F, 1-8-8 Harumi Chuo-ku, Tokyo 104-0053
Tel : 03-5560-0201
Fax : 03-5560-0205
・
TOYO WAREHOUSE CO.,LTD.
2-6-17 Meieki-Minami Nakamura-Ku, Nagoya Aichi 450-8614
Tel : 052-581-0251
Fax : 052-581-2093
・
UCI AIRFREIGHT JAPAN, INC.
4F, 3-5-12, Azuchi-cho, Chuo-ku, Osaka-shi, Osaka 541-0052
Tel : 06-7711-6700
Fax : 06-7711-6711
・
U-FREIGHT JAPAN CO.,LTD.
8F, SF Bldg. 1-16-11 Nihombashi-Kakigaracho Chuo-ku, Tokyo 103-0014
Tel : 03-3663-9011
Fax : 03-3663-9015
・
UPS SUPPLY CHAIN SOLUTIONS(JAPAN) CO.,LTD.
River Side Shibaura Bldg, 4-12-31 Shibaura Minato-ku Tokyo 108-0023
Tel : 03-6702-0300
Fax : 03-6702-0301
・
VANTEC HTS FORWARDING, LTD.
27F, 1-8-10 Harumi, Chuo-ku, Tokyo 104-6027
Tel : 03-6864-6530
Fax : 03-6864-5210
・
YAMATO GLOBAL LOGISTICS CO.,LTD.
5F, 1-14-5 Shinkawa Chuo-ku, Tokyo 104-0033
Tel : 03-5542-8600
Fax : 03-5542-8653
・
YAMATANE CORPORATION
12F, YK Bldg. 1-2-21 Etchujima Kohto-ku, Tokyo 135-8501
Tel : 03-3820-1111
Fax : 03-3820-1118
・
YUSEN LOGISTICS CO.,LTD.
2-11-1 Shibakoen, Minato-ku, Tokyo 105-0011
Tel : 03-6703-8111
Fax : 03-3578-3551
| | |
| --- | --- |
| ◎ | AIREXPRESS DIV. (14 members) |
| | |
| ・ | FUKUYAMA TRANSPORTING CO.,LTD. |
| | 4-20-1 Higashi-Fukatsucho Fukuyama-shi, Hiroshima 721-0974 |
| | Tel : 0849-24-2000 |
| | Fax : 0849-31-4865 |
| | |
| ・ | HANKYU HANSHIN EXPRESS CO.,LTD. |
| | 2-5-25 Umeda, Kita-ku Osaka-shi, Osaka 530-0001 |
| | Tel : 06-4795-5712 |
| | Fax : 06-4795-5724 |
| | |
| ・ | KINTETSU WORLD EXPRESS, INC. |
| | 24F, 2-15-1 Konan Minato-ku, Tokyo 108-6024 |
| | Tel : 03-6863-6440 |
| | Fax : 03-5462-8501 |
| | |
| ・ | KOKUSAI EXPRESS CO.,LTD |
| | WTC Bldg., 24F 2-4-1 Hamamatsucho Minato-ku tokyo 105-6124 |
| | Tel : 03-5776-1180 |
| | Fax : 03-5776-1185 |
| | |
| ・ | NIPPON COURIER SERVICE CO.,LTD. |
| | 1-11 Nihombashi-kobunacho, Chuo-ku, Tokyo 103-0024 |
| | Tel : 03-6892-8231 |
| | Fax : 03-6892-8232 |
| | |
| ・ | NIPPON EXPRESS CO.,LTD. |
| | 1-9-3 Higashi-Shimbashi Minato-ku, Tokyo 105-8322 |
| | Tel : 03-6251-1111 |
| | Fax : 03-6251-6731 |
| | |
| ・ | OVERSEAS COURIER SERVICE CO.,LTD. |
| | 2-9-13 Shibaura Minato-ku, Tokyo 108-8701 |
| | Tel : 03-5476-8311 |
| | Fax : 03-3453-0242 |
| | |
| ・ | PEGASUS GLOBAL EXPRESS CO.,LTD. |
| | 1-8-11, Shinkiba koto-ku, Tokyo 136-0082 |
| | Tel : 03-3522-1555 |
| | Fax : 03-3522-1888 |
| | |
| ・ | SBS LOGICOM CO.,LTD. |
| | 10F, 4-1-3 Ohira Sumida-ku Tokyo 130-0012 |
| | Tel : 03-3829-2482 |
| | Fax : 03-3829-2826 |
| | |
| ・ | SCORE JAPAN CO.,LTD. |
| | 1-1-13 Kameido Koto-ku, Tokyo 136-0071 |
| | Tel : 03-5628-3591 |
| | Fax : 03-5628-3636 |
| | |
| ・ | SEINO TRANSPORTATION CO.,LTD. |
| | 1 Taguchi-cho, Ogaki-shi, Gifu 503-8501 |
| | Tel : 0584-81-1111 |
| | Fax : 0584-75-3366 |
| | |
| ・ | WORLD COURIER K.K. |
| | Baumplatz. 6-4-16 Kiba Koto-ku, Tokyo 135-0042 |
| | Tel : 03-5653-6230 |
| | Fax : 03-5653-6240 |
| | |
| ・ | YDH JAPAN INC. |
| | 2-33-6, Nihombashi-Ningyocho, Chuo-ku, Tokyo 103-0013 |
| | Tel : 03-5644-5733 |
| | Fax : 03-5644-5734 |
| | |
| ・ | YUSEN LOGISTICS CO.,LTD. |
| | 2-11-1 Shibakoen, Minato-ku, Tokyo 105-0011 |
| | Tel : 03-6703-8111 |
| | Fax : 03-3578-3551 |